Assigning Presale Condos or Townhomes
With many assignments sales happening in the Vancouver Real Estate Market it is good to learn as much as possible before you decide to invest in a pre-sale purchase or 'Assign' your pre-sale at a later date.
The definition: "An Assignment is a legal sales transaction whereby the Original Purchaser (the "Assignor") of a property sells, and thereby transfers, their rights and obligations under the original contract to a new Purchaser (the "Assignee")"
The quick definition: You sell your contract to someone else hopefully for a profit (called "The Lift").
With property developments booming in Vancouver and the market increasing at rapid rates, Assignments are a great option for any would be real estate investor. If you have already invested and are experiencing a life change that is preventing you from closing on the property such as a move or change in health or finances, assigning your pre-sale purchase is a great option to still profit from your investment and not have to wait for full possession to get out of the deal.
There are many benefits to assignments.  For the assignor (seller) you will receive the full deposit back and can often negotiate a higher price on top of the deposit as demand for apartments increases.  Assignments tend to be less advertised and thus have less competition so if you are in the market, you are less likely to get into competing offers. Buying early, before the development is finished also increases the chances of a higher ROI as buildings often sell out early.  Buying an assignment also allows for possession quicker than purchasing  pre-sale unit as construction is already well underway and the completion date may be quite close.
Here is an example of how an assignment sale works: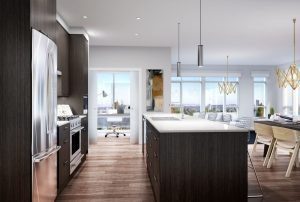 The 'Assignor' purchases a property from the developer for $600,000 paying a 25% deposit of $150,000
One year later before the completion of the development the 'assignor' (seller) decides to sell, transferring her contractual rights and obligations for a decided lift of $75,000
The 'Assignee' (buyer) is eager to get into the building but missed the presale, he becomes aware of the Assignment and contacts the 'Assignor' willing to pay the $75,000 (lift)
The 'Assignee' agrees to pay the 'Assignor' $75,000 PLUS paying back her deposit for a total of $225,000
When the building is complete the Assignee now owes the developer the balance of the agreement for sale which is the remaining $450,000
Here are a few examples if assignments we have sold in the past:
Kings Crossing #1707 https://www.leowilkrealestate.com/listing/1707-7388-kingsway-kings-crossing/
Kings Crossing #1207 https://www.leowilkrealestate.com/listing/1207-7388-kingsway-kings-crossing/
Things to Know about assignments
Assignment Fee: A developer will usually charge a fee called 'Assignment Fee'. This will be in your original contract and/or the disclosure statement. So, if you know you may want to assign your condo make sure to know if they are permitted by the developer and be aware of what they will charge.
Marketing: Some developers may not allow your assignment to be marketed to avoid competing with them. Be sure to check if you can advertise on Social Media, MLS and other websites. If not, this may be more of a challenge for you to sell and something you should know before firming up on the original buy.
The Lift: Be aware that some buyers may not have all the money for you right away. Often, we have to break up the lift into several payments over time; even some at completion. It is up to you to negotiate and decide what works. Not everyone in Vancouver has $225,000 in cash lying around!
The Contract: When someone (assignee) buys your investment, the contract is very complex. Make sure you have someone experienced in assignments as things can be very complicated! Working with a professional who has experience with assignments will allow you to get the most out of the sale and avoid overlooking any key points in the contract.
For more information on real estate market in Vancouver, current trends, buying a home or selling a home, contact Leo Wilk – Your Top Vancouver Realtor.
— Don't forget to follow Leo Wilk on Facebook | Twitter | Youtube | Instagram