West Vancouver has high-ranking secondary schools that are competitive across Vancouver. This prestigious area is home to many families with children. 
While finding the right home for you and your family, it is a good idea to check out the schools in the local area. To help you out, we've put together a list of the top 5 secondary schools in West Vancouver based on the Fraser Institute's school rankings from 2018-2019.
Top 5 Secondary Schools in West Vancouver in 2020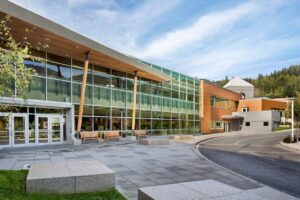 1) Collingwood School
With a score of 9.2, Collingwood School is tied with Mulgrave as the top secondary school in West Vancouver coming in with a rank of 10/252. The school delivers education curriculum from Junior Kindergarten to Grade 12. The Moven campus (Grade 8 to 12) is located at 70 Morven Drive in the British Properties of West Vancouver. 
Collingwood School promotes their Four Strands which are Academics, Athletics, Service, and the Arts. Students must participate in the Four Strands and many extracurricular activities are offered to fulfill the requirements. This helps students receive a good education and become well-rounded students set up for success. 
The school offers Advanced Placement classes in the Senior Years and pre-AP courses before the Senior Years. Collingwood is also part of the international Round Square network of students which is an association committed to academic excellence, personal development and responsibility through service challenge, adventure, and international understanding. They even send students across the globe for Round Square International Service trips.
Collingwood has a strong athletics program that has won eight AA rugby, one AA soccer, and one AA basketball provincial titles.
Learn more about Collingwood's School Ranking Report.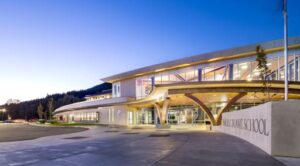 2) Mulgrave School
Tied for first place, Mulgrave School is a top secondary school in West Vancouver with a score of 9.2 and rank of 10/252. The school is located by Cypress Mountain right off Exit 8 of Highway 1. 
Mulgrave has approximately 80 students per grade. It offers the International Baccalaureate programme (IB), including the primary years programme (PYP), middle years programme (MYP), and the diploma programme (DP).
Learn more about Mulgrave's School Ranking Report.

3) Sentinel Secondary School
In third place is Sentinel Secondary School, one of three public secondary schools in the West Vancouver district.
Sentinel Secondary offers Advanced Placement Program (AP) courses which are equivalent to university-level studies for students in grade 11 and 12. AP courses offered include French, psychology, calculus, physics, biology, chemistry, language, literature, fine arts, and more. Furthermore, they have a French immersion program which offers bilingual instruction to the students.
The schools offer various West Vancouver Schools Premier Academies which incorporate sports or activities students specialize in. Students are able to train for their sport or activity as part of their curriculum at school. The academy includes animation, ballet, baseball, basketball, dance, engineering, hockey, volleyball and many more. Sentinel also has a renowned Arts Programme for theatre, band and choir.
Learn more about Sentinel Secondary's School Ranking Report.
4) Rockridge Secondary School
Rockridge Secondary School comes in fourth place with a score of 7.3 and rank of 50/252. Located in West Vancouver, it is one of the three main public high schools and has a grass field and one baseball diamond.
The school offers Advanced Placement Program (AP) courses and is currently a candidate school for the International Baccalaureate Middle Years program. The AP courses offered include Calculus, Computer Science, English Literature, European history, French, Arts, Biology, Chemistry, Physics and more.
Notably, Rockridge hosts hundreds of international students every year as a part of the school exchange. The students mainly come from China, Japan and South American countries such as Brazil and Colombia.
Learn more about Rockridge Secondary's School Ranking Report.

5) West Vancouver Secondary School
West Vancouver Secondary School (WVSS) comes in fifth on this list with a score of 6.8 and rank of 72/252. The secondary school is located in the middle of West Vancouver and has two campuses, a North Campus and a South Campus.
WVSS educates grades 8 through 12. Both campuses have their own gym and a cafeteria. The main field has a running track around it used for all sports including soccer, football and rugby union. In 2004, the school built the $12 million CAD performing arts centre – The Kay Meek Centre for the Performing Arts.
The school offers the International Baccalaureate (IB) Program. It offers courses such as Biology, Chemistry, English, Film, French, Geography, History, Japanese, Mandarin, Mathematics, Physics, Spanish, Theatre, and Visual Arts. WVSS is the only public high school in the West Vancouver School District to offer the IBO Diploma programme; however, Mulgrave School also offers the IBO Diploma. The other three secondary schools in the district, Rockridge, Sentinel and Collingwood, offer the Advanced Placement (AP) Program.
West Vancouver Secondary is home to up to 42 different sports, depending on how many students for each team.
Learn more about West Vancouver Secondary's School Ranking Report.
About Fraser Institute's School Rankings
The Fraser Institute's school rankings website is an excellent source for parents and educators. The website provides information on school performance based on objective, publicly available data such as average scores on province-wide tests. 
Parents can easily find local schools and learn about how each school is doing in academics compared to other schools. For more than 20 years, the Fraser Institute's school rankings website has been a go-to source for both parents and educators.
Moving to West Vancouver with your family?
Looking to move to West Vancouver? Work with local top realtor Leo Wilk to buy a home in West Vancouver. We help you navigate the buying process – like making sure your next home is in the right School Catchment Area for your children!
We help you find the perfect home in the right area for you and your family. Working with an expert realtor gives you insider knowledge and real estate expertise. Fill out the form below with any questions you have about West Vancouver or any real estate needs!
—
For more information on real estate market in Vancouver, current trends, buying a home or selling a home, contact Leo Wilk – Your Top Vancouver Realtor. 
— Don't forget to follow Leo Wilk on Facebook | Twitter | Youtube | Instagram