False Creek Activities: Exploring False Creek Vancouver
The False Creek neighbourhood is a popular area in Vancouver. Today we are sharing some of the main attractions for what to do in False Creek in Vancouver. We will also touch on the history of False Creek South.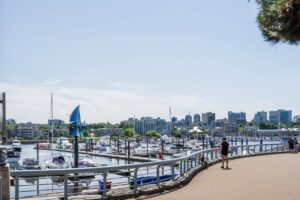 The Seawall
The Seawall is the world's longest uninterrupted waterfront path. People in Vancouver love the Seawall. It is the perfect path to bike, run or walk with beautiful views of False Creek and the city. There's always sides for bikes and pedestrians.
All of the spots mentioned below are located along the Seawall. The Dragon Boat Festival is also hosted on the Seawall every year.

BC Place
BC Place is a state-of-the-art venue hosting sporting, cultural, entertainment, commercial and community events and activities.
Next to BC Place is the Concord Community Park. This park is a temporary park and there will be developments here in the next few years. So it won't be around but right now it's a nice spot to hang out with a beautiful view.

Science World
Looking back at the city and just down the Seawall is the iconic Telus World of Science building in Vancouver. Commonly known as Science World, this is a science centre filled with interactive, hands-on exhibits and galleries. Have a fun day at Science World and learn some science while enjoying the exhibits.
Olympic Village
Continuing down the Seawall, we eventually arrive at Olympic Village. Now this has its name because this is where the Olympic athletes stayed for the 2010 Winter Olympics here in Vancouver.
Olympic Village is a mixed-use community with residential housing, parks and plenty of retail and service shops. There is lots to do in this area, especially if you want to grab a bite to eat or drink. Plus if you dig craft beer, check out the red barn looking spot called Craft Beer Market. They have over a hundred local beers on tap. It's a good place to check out and try a local beer.
Habitat Island
Continuing down the Seawall, you reach Hedge Park and beside that is Habitat Island. Now this is kind of interesting because this is a man-made island. This island is only about 10 years old. And depending at what time you're visiting, it might be high tide or low tide. When the tide comes in, there is a small area that you can get across. Habitat Island is also considered to be a BC park and the standard rules apply.
Right nearby is the Vancouver Public Labyrinth. And beside that is an art installation that got a lot of heat in Vancouver because it cost a hundred thousand dollars to build a neon sign that says, "should I be worried?".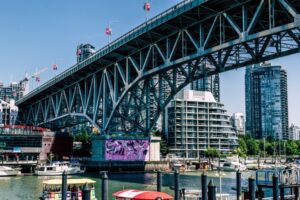 Granville Island
Take a trek out to Granville Island! This is a very popular tourist attraction. It is one of the most beloved public spaces in Vancouver. Granville Island is a premier artistic and cultural hub with many events hosted at venues on the island. The Public Market is a great place to explore and grab a bite to eat.
Getting a day pass to one of the miniature ferry companies makes it way easier to get around. It enhances the experience. Two people costs about $32.
False Creek South: History
The False Creek South neighborhood is located between the Burrard Street Bridge and Cambie Street Bridge on the south shore of False Creek.
In the 1970s, the city transformed industrial land in this area into a unique community, with a mix of housing, Park lands, amenities, and waterfront access. It was a visionary plan for its time, which created a legacy.
Today False Creek South is a primarily residential neighborhood with approximately 1800 units on leased city owned lands, which sit on the unseated traditional territories of the Musqueam, Squamish and Tseil-Waututh First Nations. No new housing has been built in this neighborhood since the 1980s. With most land leases expiring in the next 15 to 25 years, the city has a responsibility to consider potential long term use of its lands.
—
For more information on real estate market in Vancouver, current trends, buying a home or selling a home, contact Leo Wilk – Your Top Vancouver Realtor. 
— Don't forget to follow Leo Wilk on Facebook | Twitter | Youtube | Instagram