Looking for some easy and inexpensive diy home improvement projects for your home? Today we have 9 home improvement tips to share with you.
DIY projects are a great inexpensive way to upgrade your home and improve your living space. You can learn new skills and save the money it would take to hire out work for your house.
Tip 1 – Adding trim to your doors
Our first tip is to add trim to basic slab doors. This is a simple trick to add character to solid panel, slab doors. It is easy and cost effective. This is much cheaper than replacing your doors entirely. Also it really elevates the space.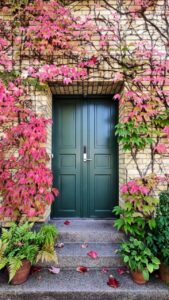 Tip 2 – Paint your front door
When it comes to DIY projects in your home, paint will be your best friend. Painting your front door is an incredibly easy and impactful DIY that anyone can do. You can buy paint that is inexpensive and take your door to a whole new level. A fresh coat makes it look brand new. Additionally, try adding a nice door knocker to complete the look.
Tip 3 – Add an outlet to your pantry
A simple upgrade for the kitchen is to add an outlet to the pantry. This way you could move your microwave into the pantry to save counter space. This requires some electrical work. If you are not comfortable with electrical work, this does not cost a lot to hire out.

Tip 4 – Paint your fence or railing
Our next tip is to paint your fence or metal railing. This is especially beneficial if you have rusty metal rails that are worn out. Again, a fresh coat of paint will make this look totally new. 
Tip 5 – Install dimmer lights
Installing dimmer lights in your home is another electrical project that you could definitely do yourself. Again, if you feel uncomfortable with electric work this is something you could hire out. Dimmer lights work great for certain rooms like nurseries or bedrooms where you may want multiple levels of lighting. They are also great in the dining room or in your master bedroom where you want to be able to adjust it. Dimmer switches are really inexpensive too. Plus, if you do it yourself, it is going to cost you around $20.

Tip 6 – Paint your cabinetry
Painting your cabinetry is a bigger task than some of the other tips on the list. However, this is a great way to upgrade your home and give your kitchen a whole new feel. Chalk paint works well and is not overly expensive, especially compared to renovating your kitchen.
Tip 7 – Use electrical conduit pipes as curtain hangers
Curtain rods are expensive and a great alternative is to use electrical conduit pipes. All you need to do is buy the hanging hardware and any sort of finishings you might want to use on the ends. You could spray paint the conduit pipes to match your home as well. This is a great cheap alternative to use. 
Tip 8 – Spray paint your air conditioning vent covers
Another super easy upgrade is to spray paint your air conditioning vent covers. Take them down from your ceiling and give it a good clean. Once the dust is removed, spray paint them with a nice gloss finish. Next, put them back up and see how much better that looks. It saves you money by doing it yourself instead of replacing them.

Tip 9 – Replace or fix up your mailbox
Another upgrade to try is to change your mailbox. You could invest in a new mailbox post and a new mailbox itself. This is more of an investment depending on how expensive of a mailbox you buy. Alternatively, if you have a functioning mailbox that is older, you could redo the paint instead. Like we said, paint is your best friend when it comes to smaller home improvements.
—
For more information on real estate market in Vancouver, current trends, buying a home or selling a home, contact Leo Wilk – Your Top Vancouver Realtor. 
— Don't forget to follow Leo Wilk on Facebook | Twitter | Youtube | Instagram 
Contact Leo Wilk