Home sales and new listings set record highs for the Metro Vancouver housing market in April. With our market reaching these new levels and with the continued safety risks that COVID-19 poses, realtors have been focused this spring on helping their clients make sound and responsible buying and selling decisions while continuing to strictly follow the pandemic safety protocols established for real estate in our province. Let's take a closer look.
Highest selling record in April compared to last year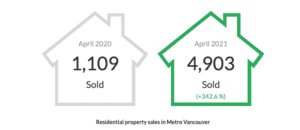 The housing market has changed considerably from one year ago when COVID-19 concerns brought activity to a near standstill. Realtors registered over 4,900 home sales in the MLS in April. That's a 343% increase over this time last year and is the highest selling April on record. On the supply side, we saw over 7,900 homes newly listed on the MLS last month. This is a 243% increase over last year. And it's also the highest toll ever registered in the month.
This record number of new listings brings the total number of homes currently listed for sale in our region to over 10,200. While we're starting to see home listings accumulate, more supply is needed to meet today's demand to bring greater balance to the market.
Sales-to-active listings ratio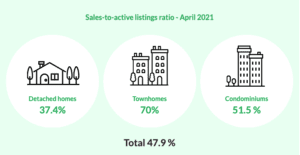 To understand the balance between supply and demand, we look to the sales to active listings ratio. When this ratio dips below 12% for a sustained period, prices typically decline. When it surpasses 20% for a sustained period, prices typically increase. April ended with this ratio at 48%. This suggests a strong sellers market.
Demand by property type

By property type, we see that demand is concentrated mostly in the townhome market. Looking at home prices, the MLS HPI benchmark price for all housing types in Metro Vancouver is $1,152,000. This is up 12% over this time last year, and is about 3% over the last month.
As you can see here, less populated communities within the region continue to experience the largest year over year price increases across all property types. So what factors are fueling this demand and price growth? While there's no one driving factor record, low interest rates, increased household savings, a strengthening economy, and a continued focus on living space during the pandemic are all contributing to today's activity.
End Note:
Remember that trends and conditions will vary. To better understand what's happening in your neighborhood or property type of choice, remember to talk with your local realtor. For further housing market information, go to the market watch section of our website.
—
To see more detailed market reports of Vancouver West, East Vancouver, North Vancouver and West Vancouver visit our Vancouver Real Estate Market Updates page.
For more information on real estate market in Vancouver, current trends, buying a home or selling a home, contact Leo Wilk – Your Top Vancouver Realtor. 
— Don't forget to follow Leo Wilk on Facebook | Twitter | Youtube | Instagram 
Contact Leo Wilk