Getting to Know Yaletown
One of Vancouver's most sought-after neighbourhoods wasn't always the bustling hub of new food and new trends that it is today. For those unsure, Yaletown is considered to be the area North of Pacific Boulevard and between Nelson and Drake Streets. Currently, Yaletown is home to restaurants, clothing stores, art galleries, offices and residential spaces. However, through the years, Yaletown has seen a few different uses.
History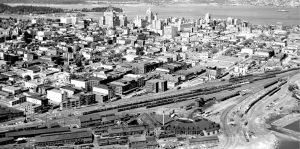 Like a lot of Vancouver, Yaletown was created because of the CP Railway. It also did get its name from the CP Railway. They decided to move the repair shops from Yale in the Fraser Valley to Vancouver around 1887. By 1900 the city had created the new Yaletown, the one we know now, to home a new warehouse district. This "New Yaletown" however was not far from its original space, but now it was just used as a place to process, repack and warehouse goods in the area. With the creation of truck trailer transport, the area did not grow as expected because many companies moved closer to the highway.
Up until the 70's and 80's, Yaletown saw little change or growth. But that changed when "young urban professionals" decided that Yaletown would be an inexpensive and unique place to live. Expo 86 was also a huge boost to Yaletown when it became the site for the festival. This helped make it into the neighbourhood we know and love today.
Fun fact!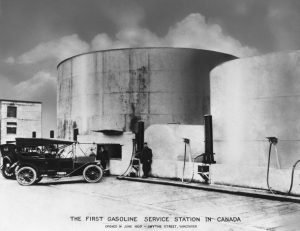 Did you know that Yaletown was home to Canada's first ever gas station? Me neither! In 1907 Imperial Oil opened up shop at the corner of Smithe and Cambie. The pumps were nowhere close to their present counterparts. They would dip pails into large wooden barrels of gasoline and then transfer them to the car. Now, that area no longer has a gas station but is home to condos, restaurants, and retail stores, I'm sure no one is using gasoline barrels around there anymore.
Hopefully, you enjoyed reading a bit about one of Vancouver's great neighbourhoods. If you think this area is somewhere you'd like to be, feel free to get in touch with me!