What is strata insurance?
Strata insurance is the coverage provided for properties and liabilities within a strata. In accordance with the Strata Property Act, strata corporations are required to obtain and maintain property insurance and liability insurance.
What does strata insurance include?
Strata insurance typically includes coverage for common property, common assets, buildings shown on the strata plan and fixtures built or installed by the owner developer as part of the original construction of the strata lot. The liability insurance must cover a minimum of $2 million. Strata corporations may choose to insure at higher amounts given their unique circumstances.
The insurance must be for full replacement value and insure against serious and immediate dangers. These major perils include: fire, lightning, smoke, windstorm, hail, explosion, water escape, strikes, riots or civil commotion, impact by aircraft and vehicles, vandalism and malicious acts.
Furthermore, there are other coverage options that strata corporations may choose to add on. For example, in areas at risk of earthquakes, optional insurance coverage may be added onto the base insurance. These will vary depending on location of the strata development. Strata corporations determine what the strata insurance plan covers exactly.
What does strata insurance not include?
The coverage provided by a strata corporation is limited to common or shared property and lists certain exclusions. Strata insurance typically does not include coverage for earthquake, overland flooding and appliances.
It is the responsibility of the strata corporation to review and assess the needs of the strata corporation's insurance policy annually, especially with a knowledgeable insurance broker when possible. The strata insurance is a common expense which occurs annually and is part of the operating budget. The strata approves this by a majority vote at the strata annual general meeting (AGM).
Strata Corporation Loss or Damage – Flow Chart
The following is a flowchart by CapriCMW Custom Insurance Solutions, which illustrates how damage is typically processed. It is general in nature and does not replace actual legal advice and opinions.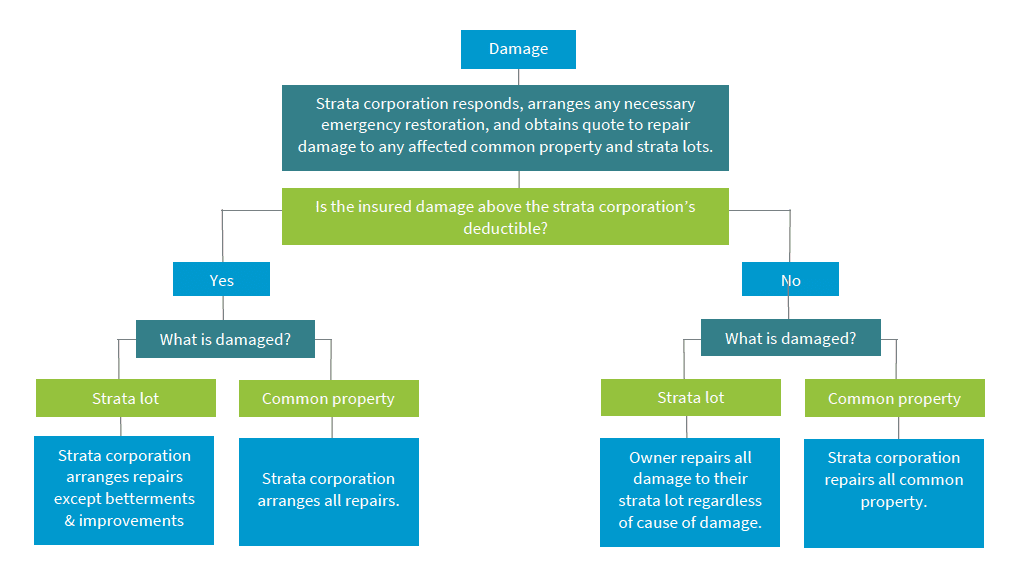 NOTE: The strata corporation may be able to charge back the deductible or damage below the deductible if there is a valid chargeback bylaw and the threshold set out in the bylaw is met (i.e. negligence or responsibility). If there is no chargeback bylaw, the strata corporation may be able to sue the owner for the deductible under s. 158(2), but not the damage below the deductible. Where damage is below the deductible, the "innocent" owner may sue for reimbursement of strata lot repairs if the damage was caused by the negligence of the strata corporation or the negligence of another owner. 
What to know about insurance as a strata owner?
Strata owners should review necessary insurance for their strata lot, and exclusions, with an insurance broker. They can request a copy of the insurance policy from their strata corporation to have better knowledge of their insurance needs.
Strata owners can purchase additional insurance for their strata lot and property. Usually, strata owners can purchase insurance for the following coverage additions:
personal property and items, e.g., household contents such as furniture, clothing, household goods, electronics, etc.

personal liability for any unintentional bodily injury or property damage caused to others

additional living expenses in the event of an insured loss that is over and above the normal costs of living

losses to common property or other owners' units for which the strata owner is responsible

improvements or betterments made by the current and previous owners to the strata lot up to a max stated limit

additional coverage in case the strata insurance is inadequate

fixtures installed by the owner-developer if these can be moved without damaging the building such as fridges, ovens, microwaves and other items
As always, please consult legal advice or knowledgeable insurance brokers when seeking advice or consultation about insurance needs. This post is a general insight into this subject. It does not replace legal advice.
—
For more information on real estate market in Vancouver, current trends, buying a home or selling a home, contact Leo Wilk – Your Top Vancouver Realtor. 
— Don't forget to follow Leo Wilk on Facebook | Twitter | Youtube | Instagram