We're getting a lot of questions about radon and it's something that should be paid attention to. It has a lot of potential health issues. You want to make sure you're informed whether you're living in an area with a high level of radon or whether it's required during a real estate transaction.
What is radon?
Radon forms naturally in the ground and is a naturally occurring radioactive gas. Radon gas is colorless and odorless. In other words, you don't really know it's there unless you have it tested. Radon is naturally in the atmosphere in trace amounts outside. Radon disperses rapidly and generally is not a health issue. 
Radon is from the ground. It comes from the natural breakdown of uranium inside the soil, rock and water that gets into the air you breathe. Typically radon moves up to the ground into the air above and into your home, through cracks and other holes in your foundation. 
So in other words, if you're outside, you've probably got some radon around you. However, since it's diluted by all the air outside it's not really considered a health risk. But if you're in your home and you have a concentration of radon built up it is more concerning. Houses are not designed to ventilate very well.
Where does radon exposure occur?
Most radon exposure occurs inside your house, your school or your workplace. But again, schools and workplaces are typically ventilated through the HVC system. So you might not have that much of an issue there. Radon can be a serious problem, especially if you spend a lot of time in your basement or on the floors directly over an encapsulated crawl space. If there is a concern you may want to have it tested. 
Where is radon in BC?
There's no area in British Columbia that doesn't have it. Check out the radon map of British Columbia to see which areas have higher concentrations of radon.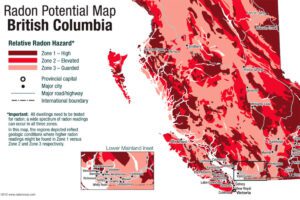 How do I know if I have radon in my home? 
You have to test for it. You can't smell it, can't see it and can't touch it. Obviously it's in a gas form. So you want to make sure you test for it. There are a couple of different ways to do so. 
DIY Kits
There are DIY kits. Usually it is a kit that you take apart and follow the instructions inside. You leave it in a part of your house for approximately 48 hours. Then you seal up the kit and send it off to the lab.
Continuing Monitoring Devices
If you've got a basement or a part of the house with a high radon level you can set up continuing monitoring devices. That'll show and track radon throughout the day. If you've got your windows closed, it's going to be more concentrated than if they're open. 
Hire a Professional
Of course you can pay a home inspector or somebody to come in and do a professional test too.
Is radon a health risk?
Now this is probably the most important question. According to the CDC radon gets trapped in your lungs and over time can create a problem. Potentially even leading to lung cancer. It is the number two cause of lung cancer. It is also the number one cause of lung cancer among non-smokers.
Smoking makes radon even more dangerous. We all know that smoking is hazardous to your health. However if you are a smoker, you're ten times more likely to develop lung cancer if you have a house full of radon as well.
—
For more information on real estate market in Vancouver, current trends, buying a home or selling a home, contact Leo Wilk – Your Top Vancouver Realtor. 
— Don't forget to follow Leo Wilk on Facebook | Twitter | Youtube | Instagram