Preparing your Vancouver Home for Sale
Staging a home in Vancouver is integral in this market and especially when vacant. However, when a home is occupied by a home owner there are many things you can do to make your home look and feel its absolute best when you take photos/video, have open houses or private showings.
Here are some room by room helpful tips when preparing your home for sale and for photography / video:
#1 – Bathrooms
Make sure your bathroom is sparkling
All toilet seats are down (integral for photos as well)
Hide all garbage cans, plungers, cleaners, etc…
No bath mats on the floor (highlight the tiles)
Shower curtain is open with hardware showing (show the steel). Curtain is over the tub and not tucked behind (get a new curtain if needed).
All shampoos, used soaps, scrubs, etc… hidden away. Try to make as empty as possible
Anything on counters (other than staging/decorative items) hidden below
Replace your towels with white hotel like towels (tri-folded)
Preparing a bathroom should be pretty self explanatory. This should be the cleanest room in the home as people will judge if not. Hiding all personal items is integral in bathrooms as nobody wants to know and feel someone else has been using this bathroom.
#2 – Bedrooms
Make your bed. Tuck in duvet very tight into frame. Picture a hotel room when you first walk in with the bed made up. Buy a new duvet set (white and plush) along with some decorative pillows
All personal items hidden (personal photos), cords tucked away and night stands cleared off. You can add "vignettes" which are stacks of 3 books, 3 decorative items etc… Always work in 3's
Candles in bedrooms are always a nice touch
Make sure your bed in centred and night stands are even
Clear out any items that makes the room feel smaller
nice art on the walls (home sense can take care of this for a low cost)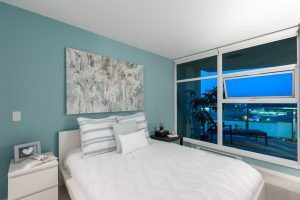 In bedrooms, less is more. Spend the money on a nice duvet set and decorative pillows. Remember, nobody actually lives like this but everyone imagines they will. Hotels give that feeling and so should your home when marketing for sale.
#3 – All Closets
"Edit" your closets; meaning organize and clean up each closet in the home
Store any clothing you do not need or that is seasonal (this is a very cleansing feeling!)
Organize shoes and store seasonal shoes as well plus store ones you do not need handy
Tuck in and fold your clothes so they are not hanging over edges (this makes the closet feel larger)
Colour coordinate your clothes
The easiest tip a Realtor can give when it comes to your closet is to envision a show home closet; There are 3 white dress shirts, 3 white blouses and maybe a dress, a few designed shoes and a few designer purses. Try to get there!
#4 – Entries
No mats on the floor (show that tile again)
No coats hanging on hooks or coat racks (make the entry feel as large as possible)
Mirrors, art are great on the wall
The easiest tip for entries is keep it clean. You want people to have a feeling of openness and welcoming, not cramped and tight. This is especially important for condos and town-homes as entries can be tricky.
#5 – Kitchens
Clean your kitchen head to toe – make that stainless steel shine
Take all magnets, pictures, papers etc… off your refrigerator
Store any items stacked on top of refrigerators (de-clutter)
Set up two stations; a coffee station and a cooking station
Fill a white bowl with green apples (the green is important)
Keep counters as clear as possible other than staging/decorative stations
Hide all kitchen had towels hanging over drawers, over, fridges etc…
Staging a kitchen for showings is one of the quickest and easiest areas of the home.
Set up 2 white coffee cups with spoons in them next to your coffee maker (if your coffee maker is old and dingy, get a new one) and put a fresh coffee bag behind them. Set up a cook book, cutting board and some olive oil in a "cooking corner" and of course feel free to have a white bowl with green apples on the counter if you have counter space to spare.
#6 – Dining Rooms
Have a nice chandelier above the dining room table
Make sure your table, chairs and anything are the same style
Set the table if you have a nice clean set of white plates, bowls, etc…
Get matching chairs
Centre piece; if you did not have room on the counter, get a white bowl filled with … green apples!
Dining rooms can be prepared quick. You do not need a plate set if you do not have one but make sure table is clean, clear and matching.
#7 – Living Rooms
De-clutter your coffee table, side tables, TV stands etc… (De-clutter)
Add some decorative pillows, floor rugs, art, etc…
Hide any signs of pets on your couch!
Have a nice decorative throw blanket on couch for some colour contrast (odds are your couch is grey)
Hide all cords, animal toys and anything else that does not "need" to be there
Add "vignettes" on coffee table (stack of 3 white books, decorative items, etc….)
Make sure the art is the right choice (no religious items)
Living rooms are where most Vancouver home owners spend their time. This room is integral for a potential buyer to fall in love with as it is where they will see themselves. Make it inviting, de-cluttered and make sure it feels big and open. Quite often, a quick re-arranging of furniture, de-cluttering and some minor staging can transform your living room.
#8 – Patios
Clean your patio floor (they are often dusty)
If you have an oversized patio get some nice outdoor furniture out there (this is integral for large patios)
Set up a bottle of wine, 2 glasses, etc… (everyone thinks they will be on their patio all the time drinking wine)
Clean any glass walls as they can get very dusty
Do not leave your patio completely empty (buying a small table and 2 chairs is quick and easy)
Patios are a space many people envision themselves spending plenty of time on. However, they won't! This does not mean we should neglect it (especially if large or when it has great views). Again, we want people to think this is how they will live.
#9 – General Home Tips
Set your heat or air conditioning to the perfect setting (summer = cool, winter = warm)
Turn on all lights in the home (ambiance is important)
Turn on fireplace, light candles etc… (if it is a hot summer night you can avoid this)
Turn on some relaxing music (Realtors love the "Chill Lounge" playlist on your TV channels)
Open all blinds to the same setting (make it consistent throughout the entire home)
Clean all windows you can access from outside (Vancouver is dusty)
Preparing a home to show for sales is plenty of work. However, it will pay off in your time on market and more importantly in your sales price.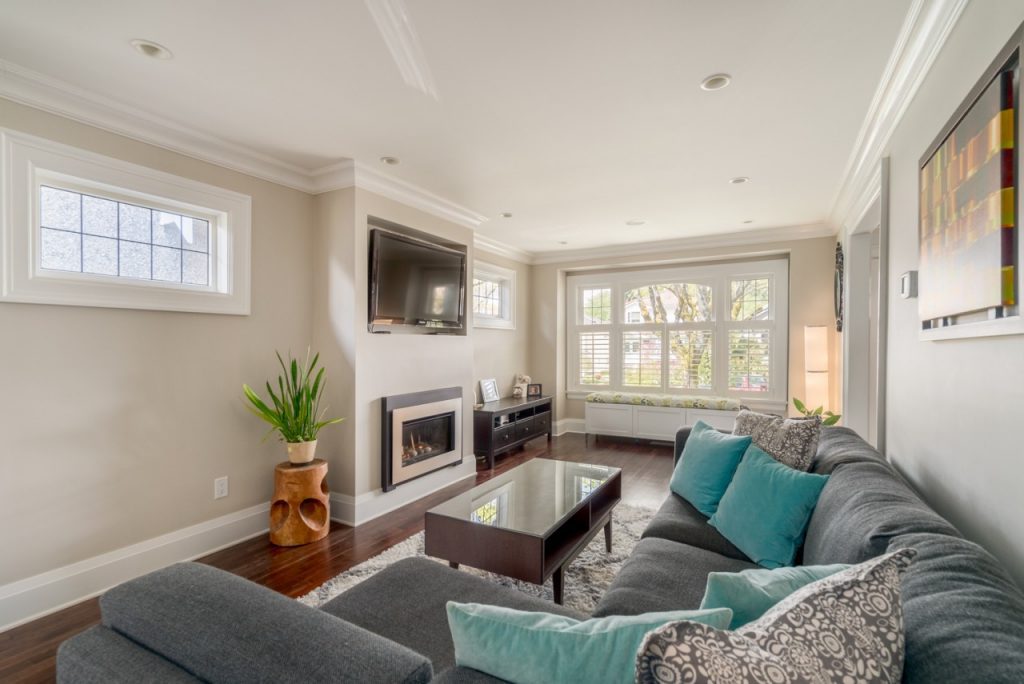 As a Vancouver Realtor who is passionate about the presentation of my marketing, listings and quality I offer many helpful resources when preparing your home to market for sale.
Staging consultations by Feng Shui certified stagers, complimentary staging items and house cleaning are a few of the perks I when marketing your home for sale.