Page 1: Contract of Purchase & Sale | Buying Vancouver Real Estate
When it comes to buying Real Estate in Vancouver weather you are a seasoned investor or a first time buyer – it helps to know what the contract looks like and means. Many buyers are scared of the contract and for good reason and this is designed to make you more comfortable when it does come time to buy a home!
As a Vancouver Realtor with over a decade of experience I am always surprised how many buyers do not know the standard terms, words, etc… of contracts for buying. To make things easier I wanted to break down the Contract of Purchase and Sale page by page to give you the advance knowledge when it comes to buying a Vancouver property.
PAGE 1  – VIEW PDF SAMPLE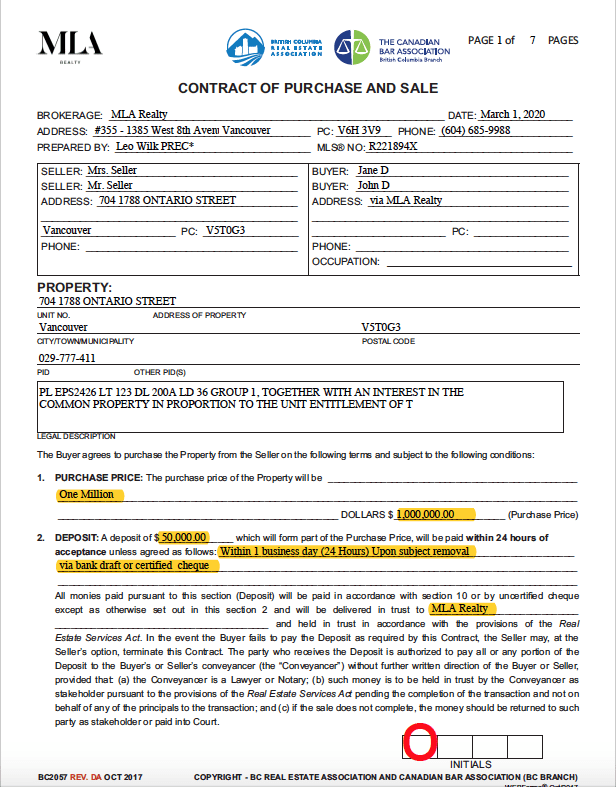 This page is very straight forward but includes the most important aspect of the contract – The Price!
The top section includes your information, the sellers information and of course the property address and legal information of the property.
#1. The price
This is where you put the price in numbers and in writing. We do this just in case we have some horrible writing and want to put it twice! Luckily it should all be computerized these days and that can avoid any uncertainty.
This is of course the #1 negotiating section when buying. Once we have submitted your offer at $1,000,000 for example the seller(s) can then counter (counter offer). When a counter comes in you will see the new price and a few initials (in red circles) signifying the seller has in fact countered and the ball is now in your court. See an example of a counter here. This offer/counter offer can go back and forth several times and often does. Make sure you are looking at other sales and active listings in order to make sure you are submitting an offer you can support of course.
#2. The deposit
This is where we will put the deposit amount you will submit if/when you go firm on the contract. We will talk about going firm on the next blog which is the addendum (addenda) which are anywhere from page 2 to page 2 to 4. The deposit is typically 5% but this is not set in stone. Being the industry standard we do recommend 5% or more but every situation is different and we can always increase amounts over time or go with a smaller amount (very often when someone has sold and does not have the money yet) and stick to it. This is also part of the negotiation.
As mentioned, the deposit is not due until the contract is firm. The deposit is now held with the buying Realtors brokerage in a Trust account until closing. The question is always brought up about if your deposit can be used with the bank at the end and the answer is yes. It is your deposit it is just in place so that the seller of the property has some security you will not try to walk away and 5% seems to be good incentive!
It is important to know that deposits can also be countered. Often when a deposit is less than 5% sellers often do want that 5%. But if the money is not available we simply counter back at the best deposit we can do.
Summary of Page 1
When buying a home/investment in Vancouver it is integral to have an experienced Realtor on your side who has experience in contracts! This is most likely the biggest and most important purchase of your life and experience is key. Make sure when interviewing Realtors in Vancouver you are asking them questions on experience. If they are new, make sure they have a mentor or coach that can and will assist them with the contract as well or you could find yourself in a sticky situation!
If this is your first time entering into a contract to sell, read up on some more information here!
For more information on real estate market in Vancouver, current trends, buying a home or selling a home, contact Leo Wilk – Your Top Vancouver Realtor.
— Don't forget to follow Leo Wilk on Facebook | Twitter | Youtube | Instagram