Home staging… is it worth the hype? Should you wait to stage your home after you list? Is the cost of staging your home worth it to sell it quick?
Read our 5 misconceptions of home staging here on the blog today based on our favourite home staging company Urban Presentations post on common myths debunked.
Misconception 1 – It is easy to stage my own home.

While as a homeowner you may know your own home well, it is hard to look at your own home objectively. Your perception of your home is much different than a professional stager. Professionals have seen and staged many homes over and over. As well, they know what buyers look out for during their home search. A professional home stager will be able to accomodate for this and stage your home accordingly. Whereas as the homeowner, you may be too used to your own home in how it looks, smells and sounds.
Misconception 2 – Home staging is not worth the expense.

Home staging might feel expensive when you make the purchase but the reward is much greater. It pays off in being able to sell your home quicker as buyers usually find staged homes more appealing. The average cost of a home staging project might even be less than your first price reduction.
Misconception 3 – Having decorations in my own home is like staging my home.

There is a great difference between decorating your home and staging it. Home staging makes the home neutral and objective to buyers walking in. It takes away the look and feel that someone else lives there. This way the buyer can imagine their own self living in that space. On the other hand, decorating adds to the home's personality. It allows owners to put their twist and flavour into the home. This may be great for homeowners themselves but might put off buyers. Every person is unique to their own style so you want to create the most objective home possible.
Misconception 4 –  I should list my home first and then wait to stage it.
While you could wait to list your place first and see how the market reacts, the best strategy is to stage your home first. When you first list that is when most eyes will be on your property. You want to make sure your home is presentable and ready to go. Having your home staged before listing gives you a greater chance in having the right buyer fall in love with it right away. It is a good idea to work with your realtor to discuss if your home needs to be staged or not.
Misconception 5 – Home staging is a real estate gimmick.

Home staging has been around for a long time and is here to stay. It is a common practice within real estate and most realtors and sellers see the value in it. Staging your home gives you a better chance of selling your home faster and for a higher price. There is good reason for this tactict to be used all the time.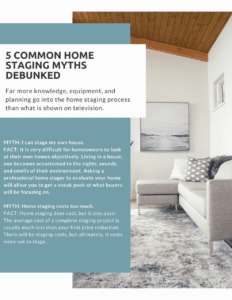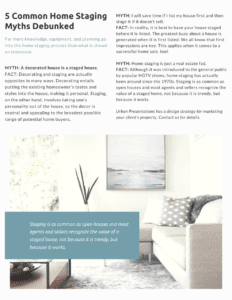 —
We love working with great local companies like Urban Presentation. Check out our other recommendations for local Real Estate Resources in Vancouver on our site.
For more information on real estate market in Vancouver, current trends, buying a home or selling a home, contact Leo Wilk – Your Top Vancouver Realtor. 
— Don't forget to follow Leo Wilk on Facebook | Twitter | Youtube | Instagram