Real Estate Marketing 101 – Floor Plans Can Make You More Money!
Let's get right into it. If your Realtor is not providing a listing for your property you are trying to market and sell, they are being frugal. And, you should get a new agent who offers the full package. This is costing you money!
Why? Here is a quick example:
#201-1190 West 6th Ave (a listing of mine) was marketed in Nov 2016 (multiple offer frenzy season) and did not sell. Despite a few things done wrong. The listing agent at the time did not do a floor plan. They simply relied on the strata plan and the size of the home was 1,017 sqft.
So after 40 days on the market they came off as "December is a bad time to sell". That is a whole other topic, one I completely disagree with as well!
When I was approached by the sellers to evaluate their home my first comment was "I need to measure this professionally". Why? It felt bigger than 1,017 sqft and in a market where we are seeing homes sell from 900 to 1,000 dollars per sqft another 10 to 20 sqft can equate to 10,000 to $20,000! So my minor investment of a few hundred dollars can literally mean tens of thousands for my sellers.
The Result of the floor plan
The result, we came in at 1,085 sqft. We found another 68 sqft. Do the math… what is 68 x 900 per sqft?!
Here is a sample of how a typical floor plan looks: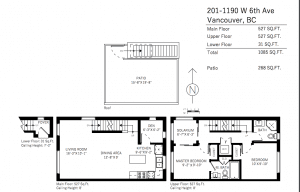 Re-Marketing the home with Leo
Now, fast forward to when the owners decided to sell their home with me…. We listed the home only 3 months after they could not sell and were priced at $940,000.
After a floor plan found us more space, we took professional photography, videos, etc… I raised the price to $975,000 and ran an aggressive weeklong marketing campaign with private showings, open houses and in the end.. we received 4 offers and sold for $1,030,000! My clients were thrilled to say the least.
Summary
Even in a hot market it is integral to do it right. Floor plans, pictures, videos, showings, open houses and everything has to be done and done right. If your Vancouver Realtor is not offering this it is time for a change.
Small spending from your Real Estate Agent can and will result in so much more money on the sale of your Vancouver home.
Contact me if you want to have your home professionally marketed to the fullest degree!
For more information on real estate market in Vancouver, current trends, buying a home or selling a home, contact Leo Wilk – Your Top Vancouver Realtor.
— Don't forget to follow Leo Wilk on Facebook | Twitter | Youtube | Instagram