In Vancouver, if your building was built approximately between 1982 to 1999 it may have required rain-screening technology. This was the so called "leaky condo" era. Let's dive into what rain screen is.
First off, what is rain screening?
You can't really point to a rainscreen, because it isn't a thing — it's a system.
Below is a visual clue on a partial rain-screen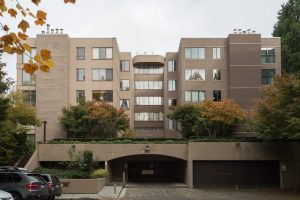 However, if you see this building and look at the difference on the right side and the left side you will see which side has been "rain screened"
The right side has slits running through the outside allowing the building the breathe and pass water. The left side as you can see cannot breathe. Water goes in and never comes out which is obviously a major issue.
Please take this as only an example as I am not a rainscreen professional by any means.
For most residential builders, a rainscreen siding installation is one that includes an air gap between the siding and the water-resistive barrier.
In short, every well-designed rainscreen wall requires:
a water-resistive barrier (WRB);
an air gap between the WRB and the back of the siding;
flashings at all penetrations and vulnerable areas; and (usually)
weep holes at the bottom of the wall.
*Ventilation openings at the top of the wall are optional.
Since 1999, there have been new standards put in place for construction. However, many buildings built in the leaky condo era are now repaired and fully functional to reside in. Some buildings have done full rain screens while others have done what was needed. In some cases the East side of a building may be sheltered from rain so it was only the west side that needed doing.
*However, we need an inspector and the document package to solidify there are no issues with the non rainscreened sides.
Simply put, a rainscreen is a space between the interior and exterior walls of a condo building preventing water from soaking through to the interior walls. Specifically, it is a moisture barrier consisting of two sheets of plastic within the exterior walls of a building with an air space between them to allow excess moisture to air out or drain through horizontal air gaps in the exterior of the building.
Brick is also a natural rainscreen, as it doesn't soak up water and is naturally breathable.
Balcony construction also has rain screen technology to prevent the units below from being damaged thanks to excess water build-up, and the style of roofs and window hangings can also aid in preventing rain from getting inside the walls.
What happens if there is a leak in your building?
If a leak or water damage is discovered in your building, an Engineering Company is brought into investigate the problem, the scope of the damage and possible fixes. Of the recommendations they provide, the Strata Corporation will vote to decide how to proceed. The cost install a rainscreen is very high, and will often be paid for through special assessments/special levies to the owners. When buying into a strata it is important to know if the building has issues and what the costs could be.
Buildings that were not built with rain-screen technology can be remedied. It is a massice project that can take very long and be very disturbing to your lifestyle. Ever noticed some buildings under green tarps for massive amounts of time?
Here are the coles notes of a rain screen from a guy who is not a builder, an engineer nor a rain-screen expert!
1. Remove the exterior material, and in many cases the balcony's as well. The building will be covered in blue or green tarp to protect it against weather – usually starts in summer.
2. Install the rainscreen moisture barrier on the walls and balcony's.
3. Replacing the window and door frames, which often means replacing the windows and doors. This also adds up the cost of the assessment.
4. Installing metal flashing around the doors and windows.
5. Repairing the balcony's and exterior walls, and often adding the horizontal air gaps (with metal flashings) on the exterior walls.
Once this process is done, the building should have a rainscreen warranty in place to fix any other issues that may come up in the next few years, and you'll have new windows, doors, balcony's and maybe a new roof so you won't have to live through those upgrades for years.
Rain Screen Summary
When all said and done; should you buy into a building built in the leaky condo era? At the end of the day it is your choice and risk you take on. Some buildings ended up not needing the technology put in place as it has stood strong.
Some buildings have had the technology put in which includes new windows, patios etc… and this is great as you are buying into a building that is 20-30 years old but truly has brand new bones!
When buying into a building that has had the work done make sure you are reading up on all the documents to make sure it is still functioning smoothly. Depreciation reports, warranties and certificates of completion should be available for you to see. Read up on the annual general meetings as well as you can see the status of the building and determine if it fits your risk threshold.
When buying, having a Vancouver Realtor who knows buildings, rain screen technology and can read the documents with you is integral. Do not get yourself into a building that has upcoming costs if you cannot afford it after buying a home. This can make your life difficult and stressful. Be careful when going into multiple offers on older buildings if you have not read up on the status of the building and done a pre-offer inspection.
For more information on real estate market in Vancouver, current trends, buying a home or selling a home, contact Leo Wilk – Your Top Vancouver Realtor.
— Don't forget to follow Leo Wilk on Facebook | Twitter | Youtube | Instagram