History of the West End
Like all of Vancouver, the West End was originally a forested wilderness. The area was purchased in 1862 by John Morton, Samuel Brighouse, and William Hailstone, three men known as the "Three Greenhorn Englishmen.
Originally they had plans of establishing a brickworks in Coal Harbour with the hopeful intent of mining for porcelain clays, . Unfortunately, the grade of clay was not fine enough for that use. Once this discovery had been made a large portion of the land was sold, by then known as the Brickmaker's Claim, to Victoria investors who in turn tried to promote its development as New Liverpool. However this plan wasn't executed either, the farthest it went was being registered with the Land Titles office in New Westminster. Another name used for the property was the Brighouse Estate (Brighouse as a name came to refer to a particular part of Richmond, where "Greenhorn" J. Morton also owned property).
The Railway
With the arrival of the Canadian Pacific Railway the West End quickly became an upscale neighborhood, home to some of Vancouver's richest families. Many of these families lived along Georgia Street, known at that time as "Blue Blood Alley" for all the posh mansions built there. Later mansions (including the Davie mansion) were built in then remoter areas of English Bay as the financial district's land values displaced the high-toned residences. As the city grew, this area became a transitory place for new arrivals from elsewhere in Canada, the United Kingdom, and later for immigrants from other countries, establishing a tradition of diversity.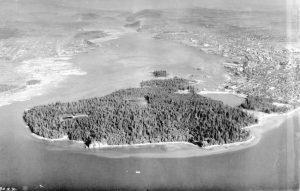 Social Issues
Over the years residents of the West End have been very proactive in maintaining the neighborhoods 'livability'. In the 1970s people were using the West End as a short cut from the north short suburbs and downtown Vancouver. As a result, citizens of this area banded together. They also staged a successful "Shame the Johns" campaign to rid this part of town of the prostitution that was then prevalent in the neighbourhood. This campaign was aided by a 1984 injunction granted by then-B.C. Supreme Court Justice Allan McEachern which banned prostitutes from working west of Granville Street.
Today, groups such as the West End Citizens Action Network, the West End Residents Association and West End Neighbors continue to be actively involved in keeping the West End livable, albeit from different political perspectives.
Ever read up about the history of Fairview? Check out our blog post here!
For further information about the real estate market in Vancouver and current trends, contact Top Vancouver Realtor Leo Wilk.
— Don't forget to follow Leo Wilk on Facebook | Twitter | Youtube | Instagram