It seems, yet again, that hardwood flooring is one of the most sought after 'must haves'.
What about laminate flooring? Have you ever wondered what the difference is between hardwood and laminate? Do you think that one is much more expensive than the other, or that one looks cheap? Is there a best option? If you purchase an older come, one of the perks is that it will most likely come with original hardwood flooring. It is a popular choice for newer homes to have laminate flooring. They have all the benefits of a lower price, while still winning over the homeowners with the look of hardwood flooring. There are definitely pros and cons for both. We'll give you all the necessary information and let you decide for yourself.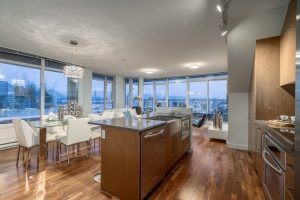 Price
A major, if not the most important consideration when doing a renovation or an upgrade is price. When is comes to laminate flooring vs. hardwood flooring there is a considerable price difference.
Hardwood: CONS Hardwood flooring is made of harvested trees; pricing depends on how exotic the trees are. In general, hardwood is considerably higher to buy and to install.
Laminate: PROS – Laminate wood flooring is made from composite wood pressed together at high temperatures. The image of hardwood is then placed over the composite wood, covering it to form the laminate. Not only are the materials themselves cheaper, but laminate wood installation cost is, on average, 50 percent less than hardwood installation.
Durability
When deciding what kind of flooring you want to install, after you have created a budget, determine what kind of foot traffic will be passing through. This is an important factor to consider and one that will make your decision a lot more clear.
Hardwood: CONS – are susceptible to scratching and can get damaged by excessive moisture. Good to note, hardwood will show wear and tear especially on heavily traffic areas.
PROS – Hardwood is the real deal; it is gorgeous and, depending on the type of wood, can add considerable value to your home.
Laminate: PROS – since laminate is made from pressed wood, it is more durable and resists scratches, moisture and wear and tear. Laminate flooring is also easier to clean.
CONS – even though laminate is more durable, it is not as visually appealing. Lower qualities of laminate may have artificial-looking woodgrain textures.
Repair
All parts of your home will need a little TLC at times, flooring included.
Hardwood: PROS – can be repaired by sanding imperfections and refinishing. This gives it the edge over laminate and a longer life span.
Laminate: CONS –  doesn't repair easily. If you buy flooring that comes in individual pieces and snaps together, you may be able to replace individual boards. However, if you have to order and piece here and there to replace the damage or wear and tear, you could be risking mis-matched pieces since many factors can alter the color slightly.
There you have it folks, the difference between and the pros and cons of laminate vs. hardwood flooring. When making a decision about flooring think past the look and the cost. Be honest about your lifestyle and the reality of who and what will be on your floor on a regular basis. This will ensure that you make the best sustainable decision when deciding which flooring to choose.
As always, stay tuned to find out, and up to date the with most current Vancouver Real Estate Information.
For further information about all things Real Estate contact Vancouver's Top Realtor Leo Wilk
— Don't forget to follow Leo Wilk on Facebook | Twitter | Youtube | Instagram